Looking for "Made in USA".  We've got it.  As New England's only authorized Goodyear/Continental Conti-tech distributor you can be assured that quality will never be compromised.  Whether your application demands the high performing Plylon Plus, a poly-nylon construction in both 110 PIW and 125 PIW fabrics or our Spartan series, a poly-poly construction in 110 PIW fabric designed for those less demanding applications we can help.
Our own Viking line of belt is manufactured Tough and Tested Tough on over 70 miles to date in some of the most torturing applications…VIKING® PREMIUM Belt uses Premium Polyester/Nylon fabric in the belt carcass with a full 10 to 1 break strength for minimum stretch, maximum fastener retention and superior load support.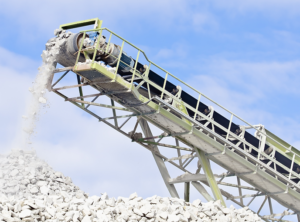 Need help deciding?  We make "house" calls. Just give us a call and we'll come by and give you our input.
Heavy Duty Conveyor Belt
Single ply, two, three and four multiply
Hot Belt, Cleated Incline, Corrugated Sidewall
Lightweight Conveyor Belt
Food Belting & Bulk Handling
Packaged Handling
PVC & Urethane
Cleated Incline
High & Low Temperature Belt
Thermoplastic/Monofilament
Rough-Top, Diamond Top, Table Top Chain
Our staff is fully MSHA and OSHA safety trained and certified.
With our sister companies we offer…
On or off-site installation and vulcanization.
On-site vulcanization up to 72″ wide.
Cleating, V-guide and corrugated sidewall
In house custom slitting to any width up to 72″ wide
Elevator bucket belt punching and installation.
Chute lining installation.
Mechanical fastener installation.
Pulley lagging and repair.
Detailed belt surveys with accompanying recommendations.